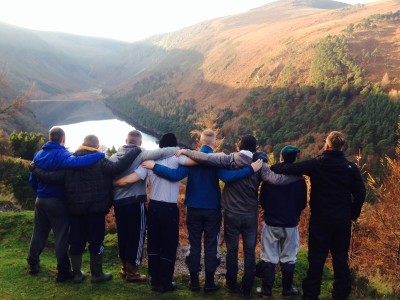 Recovery through nature
This programme began in May 2014 and sees our clients go out into the wilds of nature to work on conservation projects around Dublin and Wicklow and actively giving back to their communities. This programme has been a great success. To date over 3,000 client volunteer hours have been contributed to these projects and retention rates for those having participated are close to 75%. Some of the projects completed and ongoing under this programme include the removal of non-native plant species like sea-buck-thorn on Bull Island for Dublin City Council, supporting the work of the parks staff in St Anne's Park in maintaining the public space by planting over 40,000 flower bulbs and designing, constructing and developing a community allotment in Finglas (from a previously abandoned land), which took 10 months to complete.
Many new partnerships have been formed with a number of external agencies through this project. Clients frequently comment how being outside working and learning about the biosphere from our highly skilled and experienced horticulturist Billy and being taken to interesting places and encouraged to step out of their comfort zone by Joe, our brilliant project worker and Recovery through Nature programme leader is really beneficial to their treatment, promoting a sense of achievement and relaxation in them.
The places that the team have worked find that having a partnership with CTC is an excellent match saying that they are extremely confident and satisfied in the good natured, skillful and disciplined team of clients that attend to work in areas which are often highly sensitive horticultural environments.