Mini Puffed Rice Christmas Puddings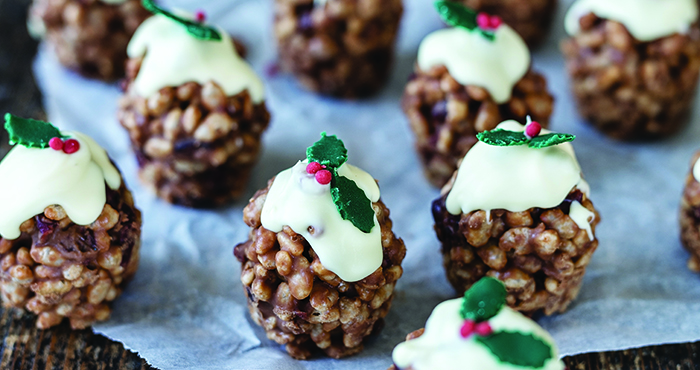 Recipe by Easy Food.
Makes 14-16
50g butter
100g milk chocolate
2 tbsp crunchy peanut butter
30g mini marshmallows
50g puffed rice cereal or cocoa pops
30g dried cranberries (optional)
To decorate:
100g white chocolate, melted
Fondant holly leaves and berries, to decorate
Line a baking tray with parchment paper.
In a saucepan, heat the butter, milk chocolate, peanut butter and marshmallows over a medium heat, stirring gently until the chocolate and butter have melted.
Place the puffed rice cereal and dried cranberries in a large bowl. Pour over the chocolate mixture and stir until well coated. Allow to cool a little.
Using a small ice cream scoop, scoop out the mixture to form "Christmas puddings" on the parchment paper.
Place in the fridge until firm, then decorate with melted white chocolate and fondant holly leaves and berries.
Per Serving: 120kcals, 7.4g fat (4.3g saturated), 12.2g carbs
(8g sugars), 1.6g protein,  0.4g fibre, 0.39g sodium
Recipe by Easy Food.