€465,000 donated by Mediolanum and its local partners from across Ireland's international financial services industry to Coolmine as part of the launch.
This comes as Coolmine sees an increased demand for its residential treatment programmes, with over 1,500 individuals supported by Coolmine in the first half of 2023, representing a 35% increase on the same period in 2022.
New initiative will see major funding boost for women's residential and community programmes
22nd October 2023: Coolmine, the national drug and alcohol treatment charity, in partnership with Mediolanum Irish Operations has launched a new fundraising collective which will see a major investment of almost €500,000 in the development of gender-specific, trauma-responsive, residential and community programmes over the coming years. The initiative builds on the existing partnership between Coolmine and Mediolanum Irish Operations to develop Westbourne House in Limerick, the first women and children's residential treatment centre outside Dublin.
The investment comes as Coolmine has seen a significant increase in demand for its services, with trends showing a significant jump in problem drug use – particularly with cocaine – in recent years. In the first six months of 2023, Coolmine has supported over 1500 individuals with its residential treatment programmes, across 15 service centres and 22 satellite offices. This represents a 35% increase across the same period in 2022.
The launch event was hosted by Mediolanum Irish Operations at Lucan House, the residence of the Italian Ambassador to Ireland – where graduates of Coolmine programmes spoke on the real life impact of Coolmine's residential services. The event also saw leading members of the Irish business community joined by An Taoiseach Leo Varadkar TD to launch the Coolmine Philanthropy Collective.
Fondazione Mediolanum "the Foundation" which promotes and develops the social activities of the Mediolanum Group, contributed €200,000 to the donations received from the collective's partners (€265,000 in total), bringing the total funds raised for Coolmine to €465,000.
Since 2005, the Foundation has focused on projects dedicated to disadvantaged children in Italy and around the world, dividing its resources between a number of areas, including social care, schooling, health and children's rights.
Some of the main benefactors of the Coolmine Philanthropy Collective include BNY Mellon, Morgan Stanley, PHI Partners, Algebris, Goldman Sachs, SS&C Globe Op, KBI Global Investors and Muzinich & Co.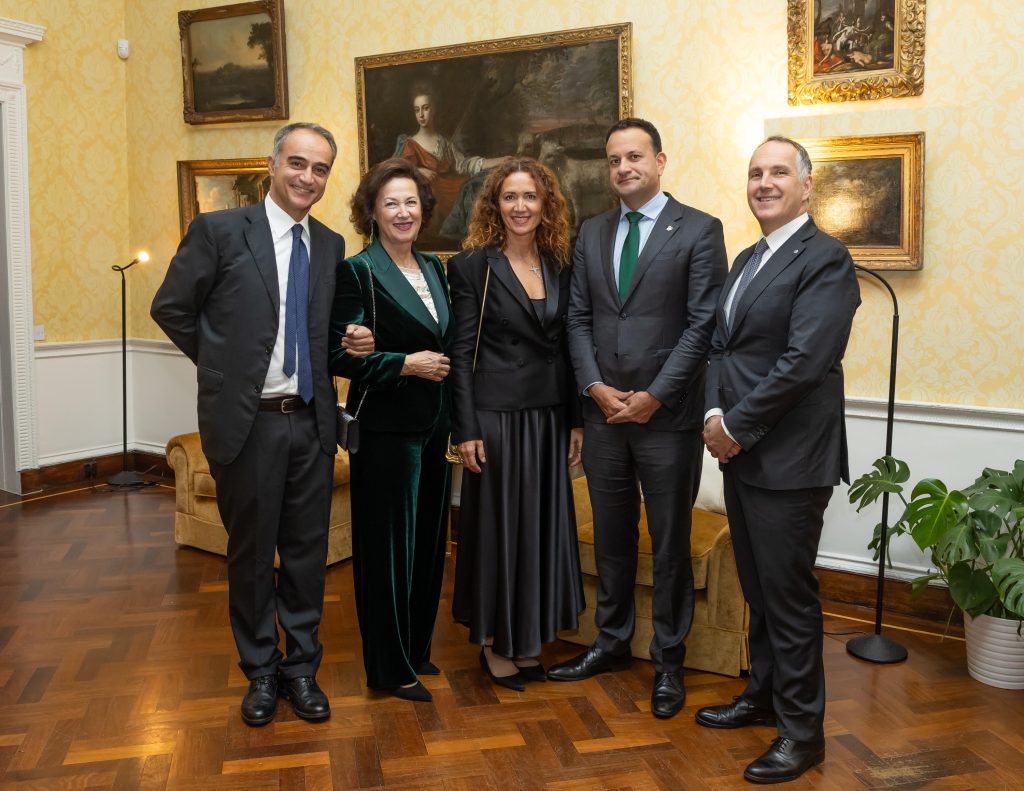 Speaking at the launch of the Coolmine Philanthropy Collective,
An Taoiseach, Leo Varadkar TD said "Congratulations to Coolmine and Mediolanum on the launch of their new philanthropy collective which will make a real difference to people's lives."
"Having visited Coolmine many times I know the value of the work they do, helping people to free themselves from addiction and get their lives back on track. It is really positive that the new Coolmine Philanthropy Collective will extend the service in Limerick with the development and regeneration of Westbourne House, the first residential treatment centre for women and children outside of Dublin."
"Substance abuse can affect anyone, from any background, and they should be given a helping hand to recover. Coolmine has been a pioneer of this way of thinking from their beginnings near where I grew up in Dublin 15. With this new partnership there is no doubting the success of the service into the future."
Pauline McKeown, CEO of Coolmine said "Coolmine are deeply appreciative of the support offered by the partners engaged with the Coolmine Philanthropy Collective and their commitment to supporting women battling addiction, in particular mothers. This is vital given that recent research tells us that child custody loss for mothers' results in poorer mental health, increased drug use and overdose risk, less treatment engagement, and worsened social factors."
Furio Pietribiasi, CEO of Mediolanum International Funds said "Mediolanum is grateful and humbled by the generosity of our partner companies. Their support for Coolmine is having a tangible social impact and is helping people and families to recover from addictions – giving them new hope for the future. Inspired by the teaching of our Mediolanum group founder, Ennio Doris, we believe that being successful in business is not sufficient if we are not having a positive impact on others. This is part of the professional mission for all Mediolanum people in Ireland."
Sara Doris, Vice President, Banca Mediolanum and President, Fondazione Mediolanum
said "Fondazione Mediolanum has been supporting over 1000 projects in 52 countries helping over 188,000 children for over 22 years, and we are proud that the foundation has been part of the Coolmine story since 2017. Nonetheless, we believe that Banca Mediolanum, our employees, and Family Bankers, can and want to do more. Our target now is to be able to support more than 300,000 children worldwide by 2030. We hope that a significant number of these will be in Ireland, through our efforts with Coolmine and other local organisations."
[ENDS]
For interview or further information, please contact:
About Coolmine
Coolmine believes that everyone should have the opportunity to overcome addiction and lead a fulfilled and productive life. Coolmine takes a therapeutic approach to recovery, dealing with the socio-economic and environmental problems that has brought a person into addiction. We aim to reintegrate vulnerable people into society through education, care, and a sense of purpose.
Coolmine clients are frequently from backgrounds of poverty and generational cycles of addiction. Clients are often former prisoners, homeless people, people who grew up without education.
About Mediolanum
Mediolanum International Funds Limited (MIFL) is the Irish asset management company of the Mediolanum Banking Group with over €56 billion assets under management as of June 2023 and 71 funds under management. Mediolanum maintains a sole focus on its investors' needs, targeting the highest quality standards for their investment services.
MIFL funds are available to all clients of the Mediolanum Group who number more than one million and are advised by over 6,000 Family Bankers® in Italy, Spain, and Germany, as well as to several institutional investors.
Fondazione Mediolanum
Fondazione Mediolanum was founded in 2001 in order to promote and develop the social activities of the Mediolanum Banking Group. Since 2005 it has focused on projects dedicated to disadvantaged children in Italy and around the world, balancing its resources between a number of areas, including social care, schooling, health and children's rights.
Since 2005, pursuing the Mission of "Educating for freedom so that today's children can be the free adults of tomorrow", Fondazione Mediolanum has supported over 1,000 projects, distributing 30.3 million euros and helping 188,000 disadvantaged in Italy and across 51 countries worldwide.
The ultimate goal of Fondazione Mediolanum is to support 300,000 children by 2030.